Welcome to Cobb Beauty College, the premier cosmetology school of the southeast! We are excited to see that you have an interest in the colorful and fast-paced cosmetology industry. Our goal at Cobb Beauty College is to create and develop world-class cosmetologists while following the rules and guidelines set forth by our accrediting body, The Council on Occupational Education, and our licensing body, the Georgia State Board of Cosmetology. We do this by accepting cosmetology students who are motivated, willing to learn and who strive for excellence.
When you're searching for the best cosmetology school near you, there's no better option than CBC. CBC was established as a private beauty school in 1980 and moved to its current location in the Kennesaw Historic District in 1987. The campus has changed much over the years, but our cosmetology school has continued to hold on to its ideal of using a hands-on approach to education that instills confidence in developing abilities and skills. We do this by surrounding our cosmetology students with top-tier instructors who offer high level instruction supplemented by real world experience and application.
Completion Rate 2016-2017 72%
Placement Rate 2016-2017 100%
Licensure Exam Pass Rate 2016-2017 100%
Here at CBC, we offer two unique programs to fit the need of whatever type of career you would like to pursue in the cosmetology field.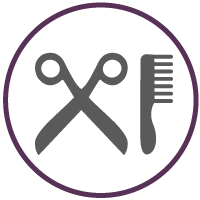 COSMETOLOGY PROGRAM
A program that offers a full breadth of knowledge in beauty treatment.
INSTRUCTOR TRAINING PROGRAM
A program for licensed cosmetologists to become educators in their field.
Whichever program you decide to choose, we make it our business to make sure that you are successful. To that end, we offer a full complement of career services that utilize our relations with dozens of salons in the area to make sure you get a great start to your career.